Intraday Trading is a short-term trading strategy that traders use to buy and sell financial instruments such as but not limited to foreign currencies, with the aim of closing all positions by the end of the day. day trading or intraday trading is suitable for full-time traders who actively trade in the daytime.
Intraday trading can be challenging for full-time working individuals unless they have a flexible job that allows them to access a laptop or desktop device. in this guide, I will show one intraday strategy to help you get started.
Most Profitable Day Trading Strategy
This is one of the most profitable trading strategies, this video is taken from our premium trading course.
Follow the trading Ideas as per the trading setup!
– Wait for the narrative/story to unfold meeting the requirements.
– Do not trade if requirements are not met!
– Trade management will help manage risk!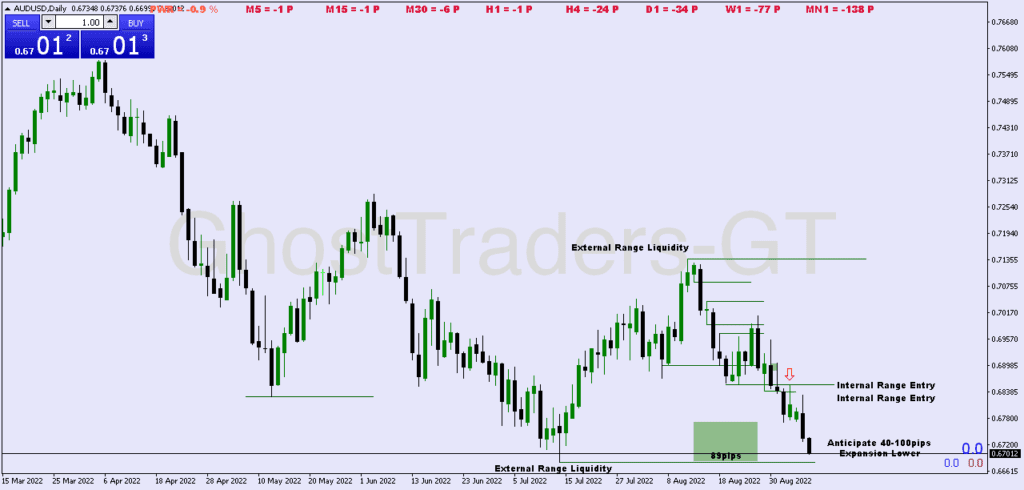 Benefits of intraday trading – Day Trading Benefits
There is no overnight risk: Intraday trading, by definition, doesn't require an open position overnight.
Limited intra-day risk: The trades of day traders are usually short-term, lasting about one to four hours depending on market volatility, so the risk of long-term trades is minimized.
Time-flexible trading: Day trading might suit people who desire flexibility in their trading. Adding an element of time to price action gives traders more flexibility
An intraday trading model with specific requirements to look at a specific time is ideal for minimizing risk and maximizing flexibility.
Multiple trade opportunities. Trading opportunities unfold frequently with this intraday trading strategy. In a week a trade can have at least 2-5 trading setups with an average of 30 pips per trade. This gives traders the advantage of risking less and not having to wait for weeks like swing trading.

Swing Trading vs Day Trading
The objective of swing trading is to profit from anticipated price movements by making long-term trades lasting a couple of days or weeks, whilst intraday trading mainly focuses on short-term trading. Unlike day trading, swing trading is suitable for part-time traders or working individuals. It is ideal for new traders to focus on one trading strategy rather than both day trading and swing trading depending on their experience level.
Personally, I do a mix of swing trading and day trading depending on my schedule. For beginner traders, I recommend swing trading first, then day trading later. For beginners, intraday trading is more challenging than swing trading. High timeframes are less noisy and less clustered with many trading candles, so swing trading is easy.
One candle on a daily time frame forex chart represents 24 candles on a one-hour time frame chart. Traders can easily become overwhelmed and lost when doing technical analysis, which is what makes day trading difficult. Traders find it more difficult to make sense of price movement on smaller timeframes.
The secret to day trading is understanding that the market is fractile. Essentially, this means taking into account higher time biases and analysis with smaller timeframes. This will help you frame a trading setup or refine your entries in a smaller time frame. A daily order block on an hourly chart might serve as a mitigation block or breaker. This is the reason I start from a higher time frame to a smaller time frame when doing technical analysis. I switch between multiple timeframes to refine and frame a trading setup.
Related Post:
Best Order Block Trading Guide
Fair Value Gaps and Liquidity Void Guide
Social Media:
Instagram, Telegram, Facebook
We are sorry that this post was not useful for you!
Let us improve this post!
Tell us how we can improve this post?